How To Reuse Your Old Wardrobe Clothing – FashioniteWorld Collections
 We all love dressing ourselves be it any occasion. But most of us really don't like the part of work which includes washing our clothes, ironing them and keeping the wardrobe arranged so that we will really know what to wear the very next day. Despite having a lot of clothes, since all of them are spread, we finally come to the conclusion that we have very less clothing and we need to go for some serious shopping during the weekend !
You get new clothes again,  the same are stacked up on a chair or in the wardrobe with we finally not finding the complete piece of attire to wear and go at a time where you really need to make things fast. All the time when we open the wardrobe, we end up being frustrated with ourselves. If this is the attitude that you have been carrying out since years, this new year 2018,  we suggest you make a change to your wardrobe and see the results for yourself.




One common question which makes us really tired when every new year pops up is " what's your new year resolution?"I am a kind of person who doesn't take up any resolutions and I go with the flow of being myself. Every year, I try to better myself in some or the other aspect so that overall I can see a change in myself at the year-end and that is a true development for myself. So this year, I have planned to keep my wardrobe clean and tidy with only the required clothing and making the best use of the old ones.
When we try to rearrange our wardrobe, we come across many new clothes that we haven't worn and we come across some which we use to wear "once upon a time". So here are a few fashion tricks that you can use to mix match your clothes and make the best use of your old clothes which you no longer wear.
How to reuse your old pair of Jeans?
There are a lot of things that we can do using old Jeans. Below are some of them that I would suggest based on your interest.
If you are already falling short of clothes, then I suggest you get your jeans dyed with your desired color so that you will have a new pair of jeans that will at least sustain for a minimum of 6 months provided you don't wash them frequently.

By using the denim pockets, you can make up something creative like a pocket holder  that can hold on some of your things like the below one.
If you are someone who is interested in home interiors & decoration, you can use the old denim fabric to make a nice wall hanger with some detailing work or  go with a even easier one as simple as a cushion or a fridge cover.




I personally love bags so I won't mind making a sleek and fashionable sling bag like the one below from my old pair of Jeans. No much of work and you can do this within a couple of hours and your sling bag is all set  to go well with all your clothing !

How can you reuse your old broken and bent belts?
Well if you are someone who uses belts quite often with your clothing, we are sure that you should be having a couple of old ones which are no longer in good condition to use. Why to throw them away when you can do some nice cute stuff like the ones below.
A nice home decor flower vase !
Some handmade bracelet bands for yourself !
How to reuse your old tops?
Well if you have some old tops whose fabric is not that great, you can always match that up with a nice jacket as the jacket style is never out of style!

If you have some nice fabric tops that are bit tight to wear now,  then we suggest you to try doing the below. You can end up making a nice jacket for yourself without much work. All you need is to concentrate on  how to design the front part of it.
Use the fabric to design yourself a nice pair of cloth accessories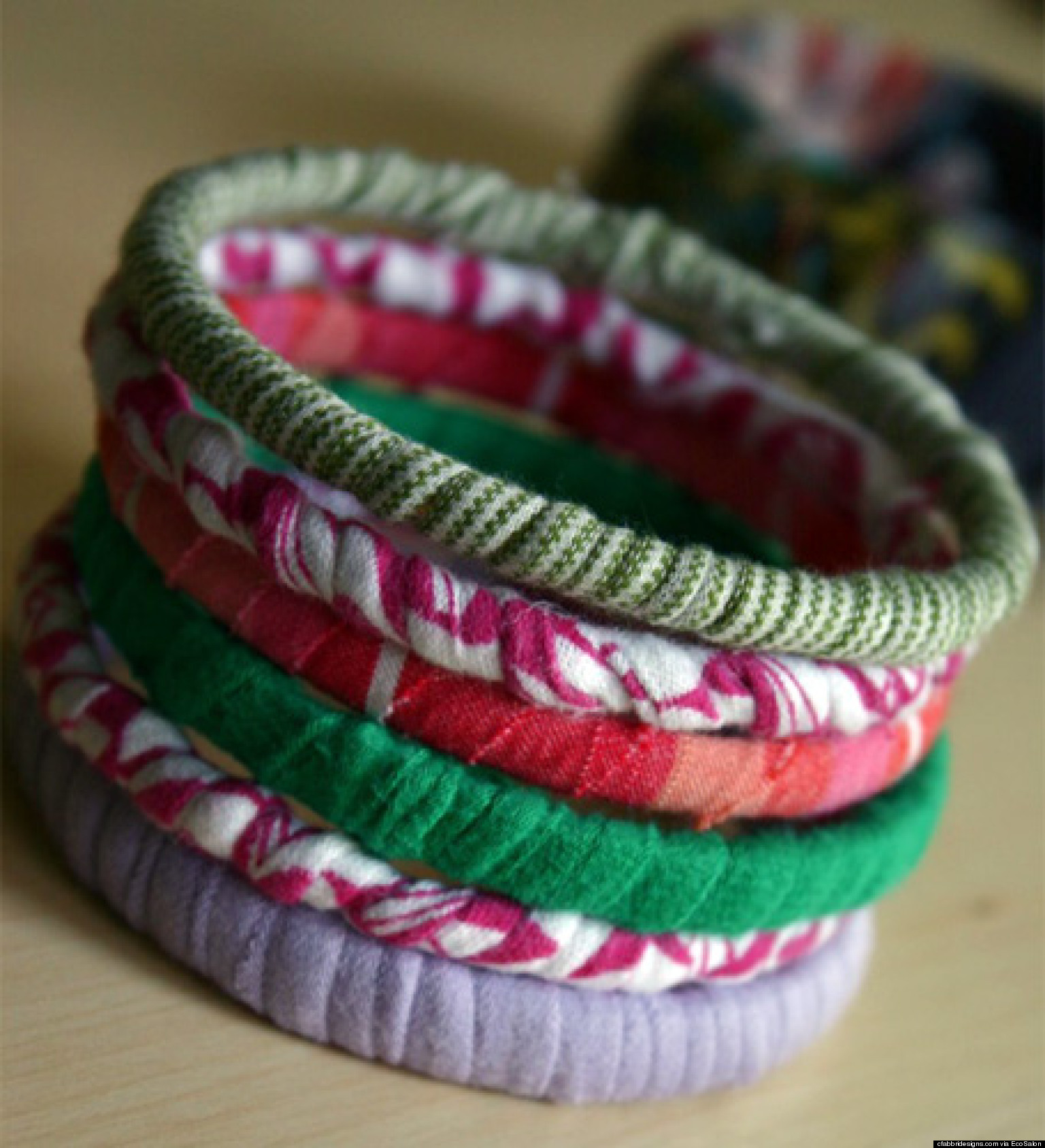 How to reuse your old skirts which are too tiny to wear?
Well, the one thing that we mainly check while buying a skirt is to make sure it has a nice fabric material. Either the fabric is thick or silky, you can make some nice funky scarfs using your old skirts which you can pair up with any of your attire.
These are some of the best picks from FashioniteWorld on how you can reuse your old clothing and reduce your wardrobe mess by creating a capsule wardrobe for yourself. Try them out and send us the images of your creative work. We will have them posted on for our fashionites out there! We need a minimum of at least three entries to reach us by next week so that we can have them posted on FashioniteWorld. Email us your details and the images.